Turning Broken Design Into High Performance Websites: Reese's Design Review
The Most Affordable Way to Get the Most Out of Your Current Website, Without Breaking the Bank
It happens very often: Someone asks us to create brand new webdesign for their business, but when we look at their site, we say:
"You don't need a new design. You just need to fix what's broken in your current design."
Obviously, some designs can't be fixed and should be replaced. But the reality is that many sites fail to inspire trust or create sales simply because the design is 'broken'.
And there can be many reasons for that.
Each font, color, dotted line and button color either builds trust, or breaks it.
You might like the natural relaxed look of multicolored social media buttons on your writer's site, but they can actually cost you a lot of trust with the reader.
That font you like so much - that might be just too hard to read for your type of audience.
Or it could be that the design uses a color combination that's proven to create feelings of doubt. Some colors are known or work against decision-making.
And all these little things can work against your goals. Design flaws can make it impossible to increase sales and grow your business.
The Solution: Optimize Your Broken Design With the Website Review
Website design should be clear, focused and persuasive.
It should glue the reader to the page and make them want to do business with you.
Creating design that achieves that is something I've done for years. The testimonials on the right pretty much say it all.
If you want an affordable way to access the many years of experience and learning that my team and I have between us, a design review is the way to go.
A carefully composed set of design tweaks, keeping in mind your target reader and the action you want her to take - that's all it takes to leverage your expensive sales copy and your carefully generated traffic.
Let's get rid of the skeletons in your website's closet - the flaws and mistakes that break your reader's experience.
The last thing you want when you finally get people to see your site is to have them leave before they take action.
Let me help you keep your readers engaged and stay in a buying mood.
I'll give you a complete report, ready to hand to your tech person (or work with yourself, provided you don't mind a little html and/or CSS).
Who Can Benefit From a Design Optimization Review?
If you...
need your website to grow your business, either by direct purchase conversion or by building a bigger list
want to feel secure that your site is perfectly optimized to work hard for you and keep your readers on the page
want to know exactly what to keep, what to ditch and what to change - and why
have spent weeks or $1000's on a design and you can't or won't get a total redesign
can implement the changes yourself, or you have an assistant/freelancer to do it for you...
Then you definitely need to get your hotseat now because we have room for only five of these each week.
If you know your site can work better but you just don't know how to make it happen, hit that button.
I'll give you crystal clear direction on how to revamp your website's design.
Get Your Custom Website Review Today
Specifically, This is What You Can Expect
You Will Get Up to 6 Key areas for improvement or change:
sidebar cleanup
layout improvements
content and search engine strategies
color enhancements
typography/fonts
navigation
That easily turns into 30 individual points, similar to this: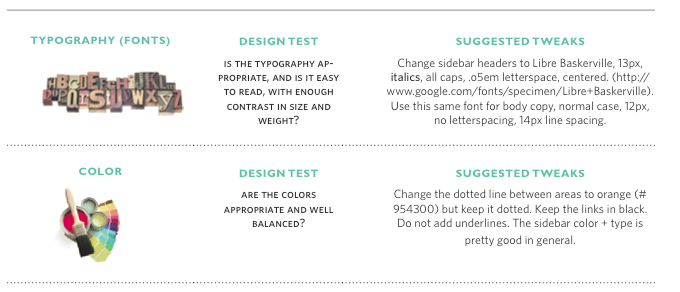 All this in a neat and easy-to-implement report, with detailed written explanations of why these areas need improvement, and their importance in growing your business.
Obviously, if I find that your site doesn't have enough (or too many) issues to warrant a review, I'll let you know and return your money immediately.
Yes, I Want to Get My Site Reviewed
$375 worth of trust-creating design
Payment is through PayPal. As soon as your purchase completes, you'll be redirected to a simple form where I ask you a few questions about your site and your goals.
If your site is too broken or not broken enough for a review, I'll let you know and I'll instantly refund your payment.
FAQ
What if I can't make the changes on my website? Will you do it for me?
We only focus is on design and its psychological effect, but we don't get involved in the technical implementation. Before you buy, you'll want to make sure you, or your assistant can make changes to your html and/or css. Otherwise, I can recommend people I trust to make the changes for you.
Does this include an analysis of my cart check out/ecommerce process?
At the basic price of $375, this review does not include ecommerce or check out process. However, you will be offered the option to purchase an ecommerce review upgrade at an additional $275 after you send me the info about your site.
I need you to show me how it all goes together. Does it come with a mockup design?
The review does not include a mockup design, but that can also be purchased as an upgrade.
How long will it take to receive my review?
Here's how it works: You click the buy button; complete payment; fill out the form and hit send.
I'll be in touch within two business days to let you know the date you can expect your review. Slots are filled on a first-come, first-served basis, and we only have space for 5 each week.
How much of a difference will it make?
A lot. You have no idea how much the reader's trust can be damaged with flaws such as the wrong font, visually emphasizing the wrong items, placing elements in the wrong place, etc. etc.
If you take all the recommendations in the report and diligently implement them, you can expect to see your site perform better. On-page time will increase, calls to action will get more clicks, you list will grow faster, you'll sell more.
Enough said, I think.
Want a site that performs?
Get it here.
$375