[easy-social-share buttons="facebook,twitter,pinterest,linkedin,mail" counters=0 style="icon" point_type="simple"]
E-commerce website review: Roolee.com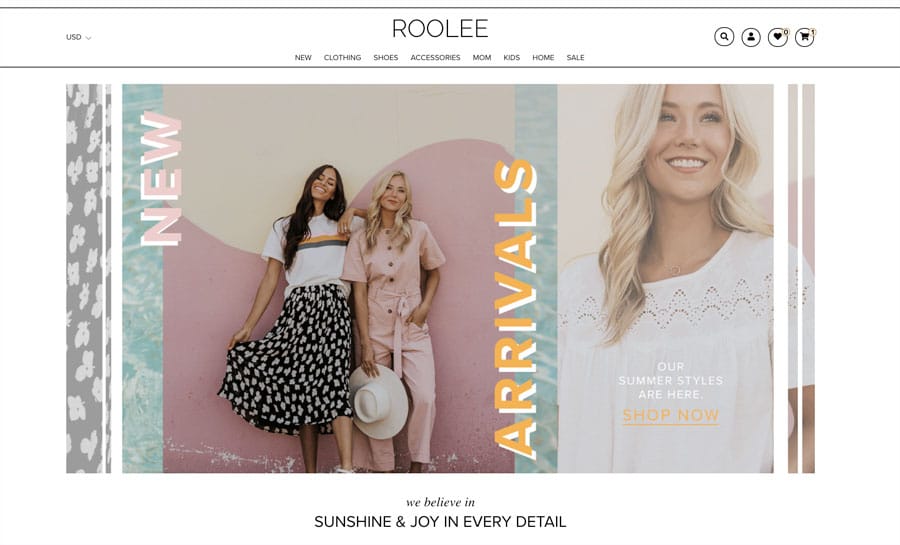 When my friend Abby recommends something, I listen.
Like when she recommended I read Glennon Doyle's Untamed, I ate that up and bought it the same day.
Abby's one of my friends with a very carefully curated sense of style.
Last week Abby shared with me one of her favorite e-commerce DTC (direct to consumer) online brands is Roolee.com.
There are so many usability and user experience checkmarks Roolee gets right, like priming people in the cart process (for instance, we know shipping will be charged unless we spend $100 and they tell us what's going to happen in the next checkout step) but today I want to break down for you on how they're shining with their brand story, copy, and environmental experience so you can make your own e-commerce site even better.
Wait, environmental what?
The mood, tone, and actual setting Roolee creates in its customers' minds when they land. That's what I mean by environmental experience. It's an important part of e-commerce optimization, the kind of strategy that takes your business from maaaaybe a couple grand a month to a full-fledged, 6-or-7-figure empire.
Wanna take a look with me? Load up roolee.com (keep in mind that it will probably look different than my screenshots below) and let's look at what makes this an effective, high-converting e-commerce site.
How Ecommerce Website Reviews Work
But before I break it all down for you, here's how this works. My friend Brenna McGowan directed me to one of her mentors, the e-commerce email copywriter Chris Orzechowski.
In weekly articles, Chris breaks down e-commerce emails and it inspired me to do the same, but with e-commerce websites, because that's my realm: optimization of e-commerce sites.
I find these websites either on my own or through friends' recommendations, but just like Chris, I also take nominations from readers on websites they want to share.
 The only rule? You can't nominate your own site.
If you've landed on an e-commerce site that wowed you, forward it to me at style AT designbyreese dot com, and if I choose to use it, I'll thank you in the review with a link back to your site.
Now, back to Roolee and their amazing website…
Home page branding and design that tells a story
Roolee's home page is like an emotional transporter that beams you straight into a summer field.
Any time you can disrupt someone's experience of being on a phone or computer and make them feel or imagine a life outside of a screen, you help them remember what's important, and they'll link that memory to your brand or products.
They'll want to snuggle up with your site a little longer because that emotional pattern disruption is something new and intriguing.
So Roolee does this beautifully with their home page branded images.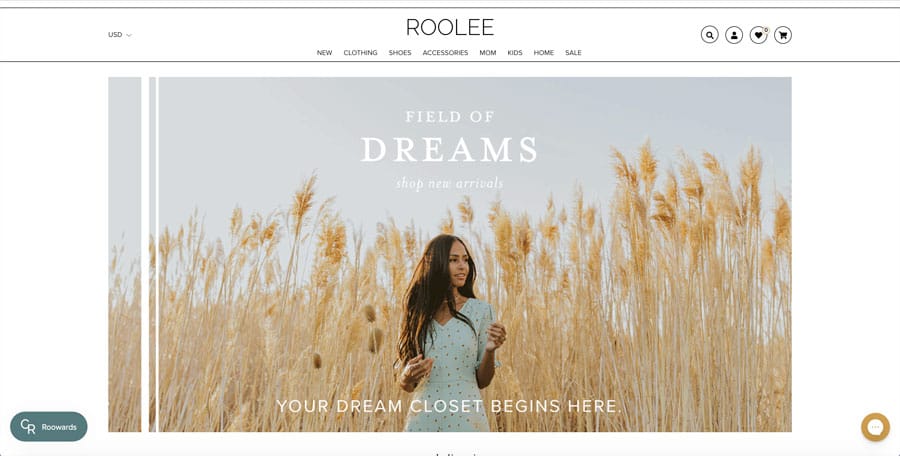 Did you notice they don't just show a dress or a pair of pants—they show their products in USE, and not just a studio. They go the distance by adding copy details to the banner images that create that emotional link.
This shows their customers they're more than just an online store: they are a brand that understands their customers' deepest desires.
The top photos draw you in, much like a great first sentence or lead paragraph pull you into a story.
High-converting e-commerce sites that have been optimized hook people with a combination of compelling copy and the right lifestyle images. When you hook someone immediately, they're more likely to keep scrolling and browsing.
Now let's talk user experience, briefly.
As you mouse wheel (on desktop, or thumb swipe, on mobile) down Roolee's home page, you'll notice that instead of an overwhelming amount of products and choices that require the customer to think too hard, they've neatly organized their top popular categories.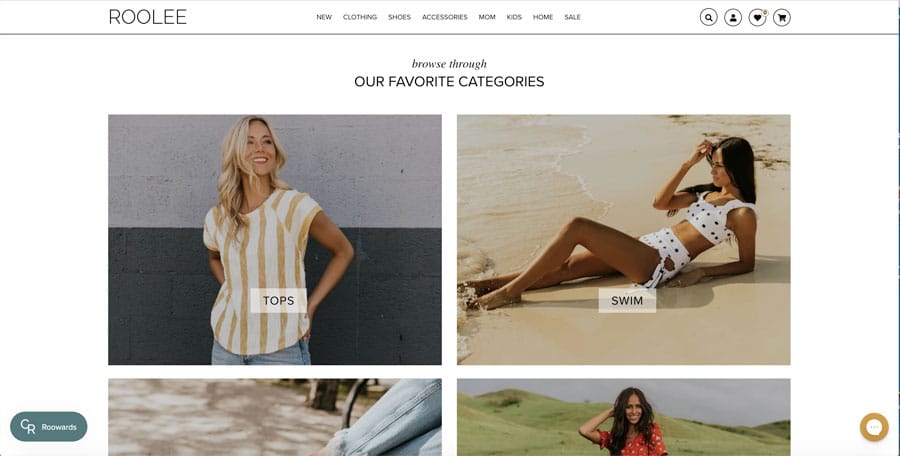 This is a brilliant strategy because it helps guide a customer. Leaving too many decisions (or a haphazard number of choices) up to the customers leaves her confused and overwhelmed. A confused mind says no.
Our brains love organization and grouping: we'd rather try to navigate order (like walking through an Ikea store) versus chaos (like walking into a Dollar Store).
As you keep scrolling, notice the tidbits of engaging copy here and there that remind you Roolee isn't just a store, they're a lifestyle.
An opt-in rewards program that builds customer loyalty
One of the most genius strategies Roolee rolls out is their rewards program.
Too many an online shop has either a "sign up for our newsletter" box—which offers nothing of value for a customer to be willing to give away their email address—or they'll go for the quick and easy win: 10% off a first purchase when you sign up for emails.

Now the quick win's better than nothing given to the customer in return for their data, but Roolee's rewards program is a far more desirable offer: I know that if I give you my email address, you'll reward me over and over again for my ongoing purchases.
Not only does this get Roolee's a customer's email, but it also encourages repeat buying and increases the lifetime value of a customer.
Online store product descriptions that make people want to buy
Boring or sterile product descriptions make me want to leave a website. Roolee optimizes their website and keeps their customers hooked with product descriptions like this: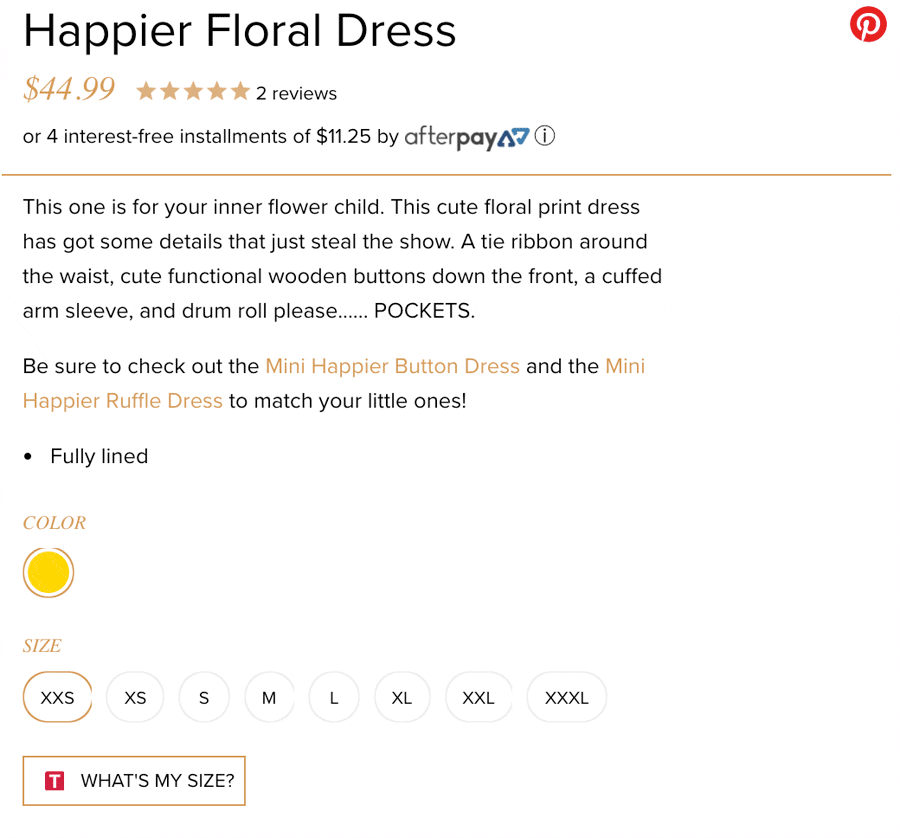 And product names like:
Miss Americana Embroidered Blouse
I'm Yours Stripe Top
Hello There Tie Jumpsuit
When you buy a top or shoes from Roolee, you're not just buying clothing: you're buying a story of yourself.
This is what great copy does for your online store. One of their writing tools that creates this bridge with their customers is the use of "you" and "your" in their copy, including product descriptions.
When you speak directly to your customers, you invite them into a more intimate relationship with your brand and products and make it easier for them to imagine themselves wearing or using your products.
The product page design also offers several elements that are markers of great e-commerce optimization.
These elements improve trust and usability.
For example, I appreciate that they offer AfterPay, a way for me to spread out the cost of my clothing without any additional fees. For any of Roolee's customers on a budget, AfterPay removes price objections instantaneously.
They also help me understand their clothing's fit by making "what's my size" a prominent link.
And if I've got a kid and want her to have a matching outfit, like my mom did to me when I was 6? That's highlighted for me so I don't have to hunt around for it.
In case the product isn't quite what I'm lusting after, Roolee ensures I don't leave disappointed by showcasing similar products they think I might also love. My husband told me that when he shops for his hobby, this "you might also like" section has meant the difference between him buying, or noping out of the website completely.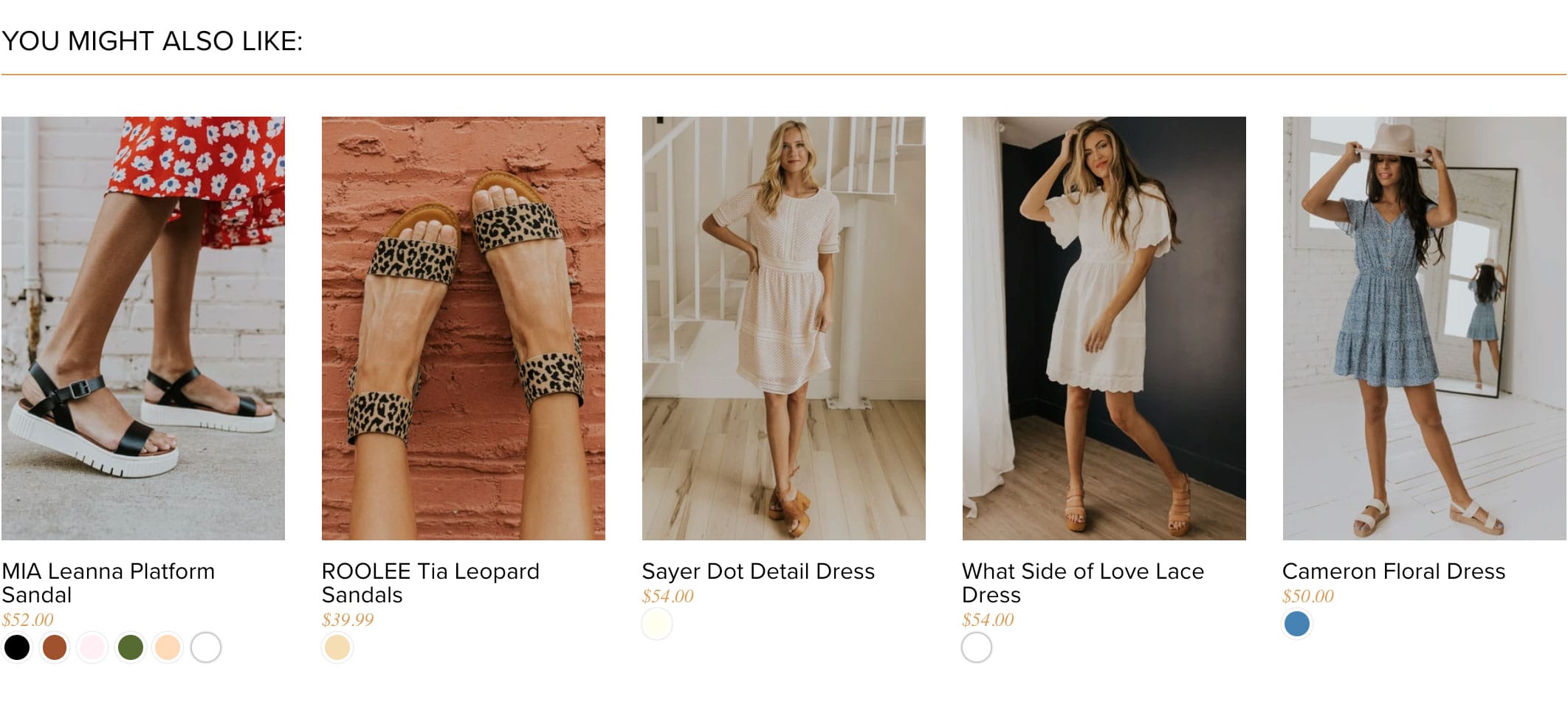 Additional Ecommerce Brand Builders
Down in the footer, (which is a smart choice that helps keep the most important part of a store—the products—the main attraction in the header) they reinforce their brand story through pages like "meet the models," which introduces us to each of their models and humanizes an online store more.

On Roolee's "about" page, they use a combination of authentic, heartwarming photos with copy that reads like a dream to tell us more about them as a company: we learn Roolee is a family business, and meeting the founders of this company drive home the point that this isn't just another walled-off corporate concern.
Sharing their story helps further strengthen the approachable brand image they've promoted throughout the site.
Use Instagram on your online store to show customer appreciation
Then Roolee highlights their customer base through showcasing customer Instagram images in the "Styled by YOU" section. When a customer loves a brand, rewarding that loyalty by showing their brand product Instagram shots just helps a customer love them even more.
E-commerce user experience done right
Most of these brand personality details would be meaningless if Roolee didn't also get their usability, user experience, mobile experience, and overall site flow right.
A few of their best e-commerce optimization practices include:
Keeping the header menu tightly focused on product categories and an intuitive store organization
Telling customers, in the cart checkout process, that shipping's free if their checkout value reaches $100
Recommended similar products on the individual product page
A checkout process that primes customers for every next step that's coming in the process (for example, text that says "shipping calculated in the next step" and a button that says "continue to payment")
A fast page load time on mobile
Overall, Roolee's website is one of the better e-commerce websites I've seen in a while. Amazing work, Kylee and Chad.
TL; DR: Key takeaways from 

Roolee.com
Build a brand story to bring your customers into another world.
Make your products a direct part of that brand story, like Roolee does with their home page branded images.
Use both copy and images to create an online environment that doesn't just feel like another web store.
Organize your home page into suggested top categories that help customers orient themselves quickly.
Write your product descriptions with "you" and "your" — and take time to craft compelling product descriptions.
Increase the lifetime value of a customer off the bat with an opt-in that rewards loyalty.
Add depth to your brand story with a personal, intimate about page and other pages that differentiate you from cold corporations.
Audit your website's user experience: hold people's hands through every step of their process.
Put a spotlight on your customers by sharing their Instagram brand images.
Make sure your website loads fast, especially on mobile devices.
Now drop a comment and tell me: what key takeaway in the list above helped you the most?
Did this help you?
Share with your friends so they can learn, too.
[easy-social-share buttons="facebook,twitter,pinterest,linkedin,mail" counters=0 style="icon" point_type="simple"]
Learn how to make your
website & marketing irresistible .
Get my free cheatsheet:
10 Common Website Mistakes That Are Losing You Leads and Sales
(and how to fix them, fast!)