[easy-social-share buttons="facebook,twitter,pinterest,linkedin,mail" counters=0 style="icon" point_type="simple"]
E-commerce website review: rootedbabyco.com
Comments Off

on E-commerce website review: rootedbabyco.com

When I was a sprout in pigtails, my dad did the airplane zoom thing with my food (you know, pretend the spoon's a plane and hypnotize 1-year-old me into opening wide for the pureed peaches).
The family word is I inhaled the squash (which I later hated as a kid and teenager) and spat out the spinach. Well, duh.
Bet my parents would have been all over the silicone bibs from today's e-commerce store. I saw these and thought if I had a kid, they'd probably be my second purchase after a crib.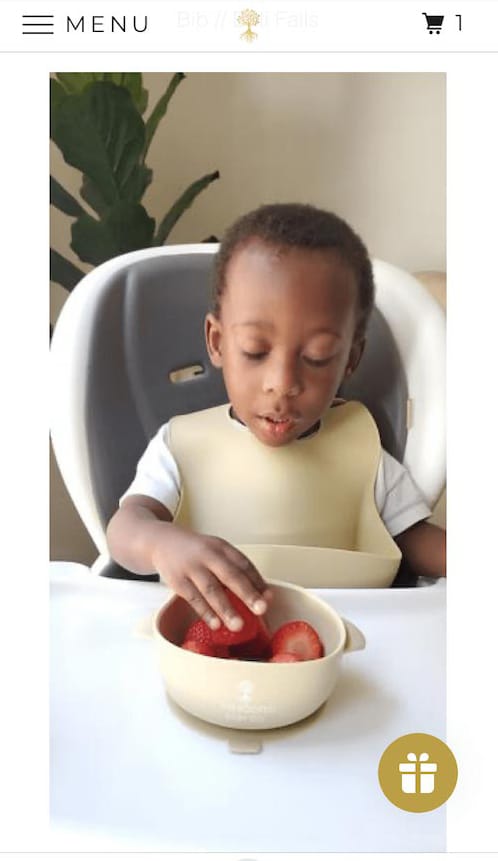 Even though I don't have kids, I love Alfreda Abena's Shopify site, the Rooted Baby Co. The photos and design made me smile, and you should read Alfreda's story of why she started her store because it's such a great example of passion and love fueling the energy behind a business.
Alfreda started The Rooted Baby Co because she saw a hole in the baby item marketplace. She wanted items for her baby that represented his cultural background and gave him tangible pieces of Ghana in his everyday life from a young age.
For parents with babies who want to give their child a doll that shares a similar skin color—or bibs, hair bands and other clothing that honors a part of Ghana's cultural story and ancestors, The Rooted Baby Co brings a unique offering to a baby marketplace that's often saturated with the same pink and blue bottles and bibs.
Now, let's talk about their website, because the Rooted Baby Co website is the kind of site you wish you'd made.
Engaging copy and storytelling
Beautiful photos that tell the story of their products
A distinct brand voice and values
The website usability and UX is on point, especially on mobile
The last ones what I'm gonna break down in today's review but before I do, here's how these reviews work:
How E-Commerce Website Reviews Work
In weekly articles, I breaks down e-commerce websites. I find these websites either on my own or through friends' recommendations. I also take nominations from readers on websites they want to share.
The only rule? You can't nominate your own site.
If you've landed on an e-commerce site that wowed you, forward it to me at style AT designbyreese dot com, (or go to the contact form here) and if I use it, I'll thank you in the review with a link back to your site.
Now, back to the Rooted Baby Co and their beautiful website…
5 ways to optimize e-commerce websites for Mobile Shoppers
Let's look at what goes on when you load this site on your phone:
1. The perfect mobile header
Too often I see websites with mobile headers that take up 25% of the phone's top-to-bottom real estate. Rooted Baby Co keeps their header tight and to the point. If there were one thing I'd change, it would be to reinforce their name int he drop-down navigation (under the tree) just to help strengthen the brand recognition and make their name memorable.

2. A product listing page with easy filters
Right at the top of their main product listing page, Rooted Baby Co offers us a filter and sorting dropdown submenu. This helps a customer easily find what they're looking for without forcing them to scroll to the bottom or sort through items that may not be on their list just yet.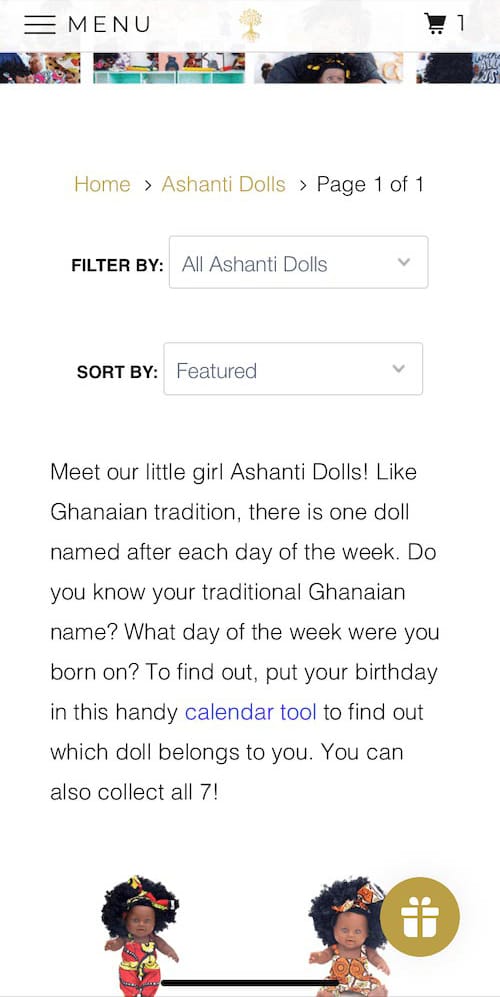 They also do something really important (that seems small). There's pagination at the bottom. Something I often see on stores is infinite scroll, where more products load as you scroll and it never ceases or has a break point. This can cause stress and frustration. Visitors, especially on phones, like to orient themselves and have a "break" from scrolling. Pagination helps with this.
3. Good e-commerce product photography: beautiful product photos that show us detail
Rooted Baby Co's photography is clear, crisp and consistent—those are 3 Cs of good ecommerce product photography.
Each image shows us the fabric pattern details, and there's no "noise" in the background—they were smart to shoot the photos on an all-white background, (with the occasional accent piece like leaves).
The photos are consistent from page to page, which helps build trust. Nothing destroys trust faster than a bunch of photos that look like they came from 10 different manufacturers.
One photo I'd love to see in the thumbnails is the product in use. We see this on the silicone bib's page and I would love to see it for all products (I know—photographing a baby is a massive undertaking).
Alfreda's son is damn cute, and if she showed him wearing the bib (and perhaps brought in some other babies, too, to give Noah a little break from his photo session!) it would increase affinity for their product and brand.
People love seeing both details shots of the product, and the product in use because showing the product in use by another human taps right into our empathic natures and helps us better imagine that product in our lives. It also helps us feel more connected to the brand.
4. Payment options on checkout.
With more people opting for digital wallets like Amazon pay, PayPal or Apple Pay, it's almost a non-negotiable these days to offer more than credit card payment options. Not only do options help empower a customer, but it also builds trust: people trust brands like Apple and Google pay, and they associate that trust WITH your brand when you offer those payment options.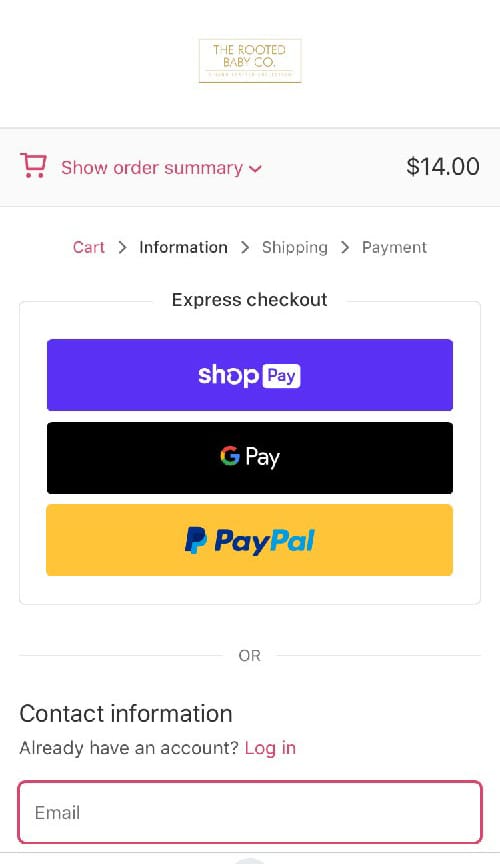 5. Checkbox prompt
When I add something to my cart, before I can checkout, Rooted Baby Co asks me to check a box related to their FAQ, Refund Policy and Terms.
It was tough for me to see this checkbox on mobile but what's good about their user experience is the "select this checkbox" popover that comes up is pretty obvious. Sometimes customers go through a checkout process and get "stuck" on a spot and it's not clear to them what they need to do to proceed forward.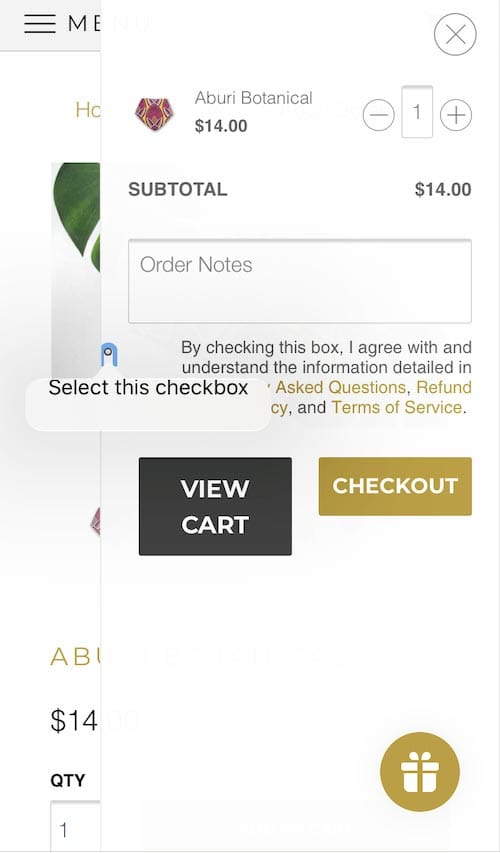 Too often the problem (e.g. a form that needs to be filled out) is hidden and faced with no help on how to solve the problem, they'll leave. Rooted Baby Co's site makes it clear what the problem is in my checkout.
One thing that could improve this a bit more is to make that checkbox a bit bigger and more obvious—with some more space n its left, making the circle bigger, and moving it closer to the agreement text.
Bonus:
The category page for Rooted Baby Co's Ashanti Dolls is a great lesson in branding and customer orientation. Instead of just throwing down the product photos and names on the page, Rooted Baby Co orients the customer with introduction text. We learn the background of the dolls and why there's one doll for each day of the week. I love that Rooted Baby Co sends people to a tool to help them find out what day of the week they were born, and I think it would be awesome if they brought in a programmer to offer that tool RIGHT on the website so that people don't even need to leave the site to find this information.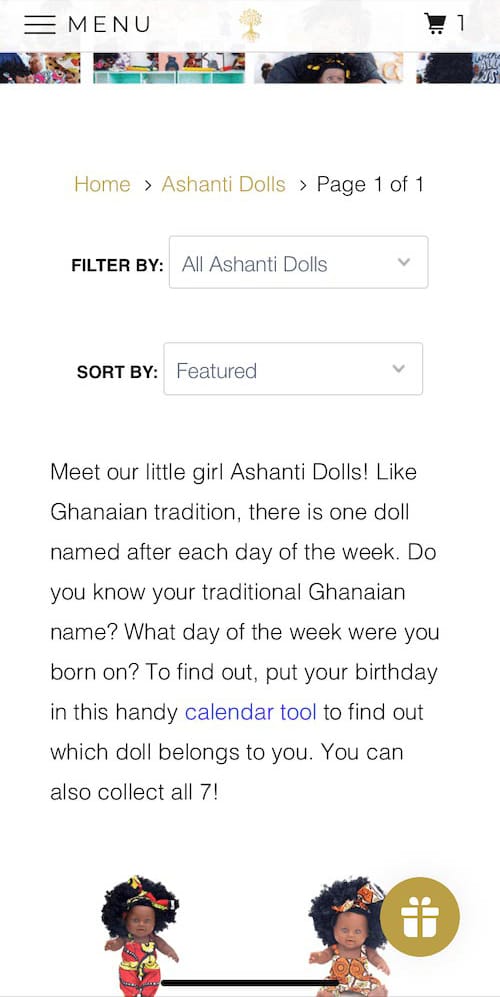 I'd love to hear from you: what one of the 5 tips was most helpful to you, and why?
Did this help you?
Share with your friends so they can learn, too.
[easy-social-share buttons="facebook,twitter,pinterest,linkedin,mail" counters=0 style="icon" point_type="simple"]
Learn how to make your
website & marketing irresistible .
Get my free cheatsheet:
10 Common Website Mistakes That Are Losing You Leads and Sales
(and how to fix them, fast!)